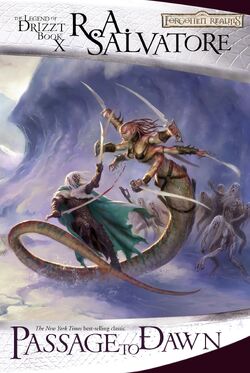 I'm almost done with Passage to Dawn, the 10th and book of the Legend of Drizzt and I almost got sad that I'm about to leave this world that I escape into every night. I thought this was the last book of the series, but then I researched online and it turns out there's at least another 10 more books on Drizzt that I could devour. It made me a very happy geek.
Drizzt is a dark elf and he's my idol. Also, I'm crushing on his friend Wulfgar:
He's the sexiest barbarian in the world. Scandinavian swashbuckling beauty; he reminds me of Pavel Novotny.
It's the 10th book I've read on my iPad and reading from the device has been a pleasure -- I don't need to find the best lighting, I could take my library anywhere, I don't have to worry about lost bookmarks, and I honestly found that I've been reading more than I used to. But like I always say, nothing beats the smell of ink and freshly cut paper. I can definitely see myself purchasing the actual books eventually for posterity. A person's bookshelf can say a lot about a person, and I would like to have a bookshelf with items I've read. Pity if most I've read are softcopies downloaded from torrent for free.
I'm wondering if I should take a break from his world and try reading a different one. I could read Anansi Boys. I could also wait for the release of The Wise Man's Fear in March which I've been waiting for since 2008:
I could take a break from reading downloaded material and grab a hardbound copy of Patrick Rothfuss' second novel. Some books are worth the purchase. I called Fully Booked today and they confirmed that they've already placed orders on the book. I should be able to get a copy next month. My sidekick gave me a Fully Booked gift card last Christmas and I'll definitely use it on this book. I am super excited. None of my friends (except for my lady friend who's also into these books) could relate to my excitement. But that's fine; true luxury happens when something of quality is enjoyed personally and not overtly--like the silken lining of a fine suit, a private island, or a good book.